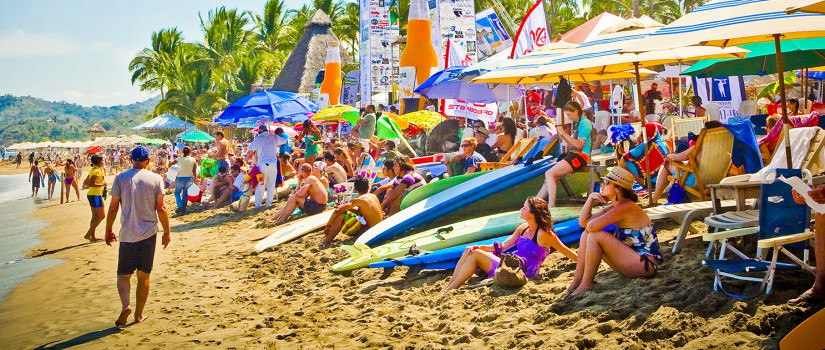 The beaches of Sayulita have received attention for being the most beautiful on the Pacific coast. There are a number of beaches that are easily accessible yet offer a rewarding experience to surfers, campers and people interested in basking. They are located strategically ensuring that you do not have to travel long distances to reach the beach town.
Playa De Los Muertos is one of the most impressive beaches you will ever visit on the Pacific Coast. It has been rated as one of the safest destinations for family outings as well as swimming. It has a scenic rocky terrain that keeps it protected and secluded to offer the privacy you need. The best way to access these beaches is through kayak from Sayulita.
Playa Carricitos is a secluded beach area with high waves. The environment is wild and windy meaning that most of the time you are likely to be all alone. The homes on this area are usually hidden by the wooded hills towering above the water. The waves on this area are excellent for body surfing. It is the perfect destination for pro surfers who want to experience wild and powerful waves.
Playa Patzcuaro and Patzcuarito are located in the remote areas of Sayulita. The little effort you will require to access the area is rewarded by scenic beauty and the much needed privacy. From town, it will take you ten minutes driving or about 30 minutes while walking. There is a creek that leads to the area and an exciting rock climbing experience for those interested in reaching Carricitos faster.
Playas Las Cuevas and Playas Malpasos this is a perfect jungle experience on the northern part of Sayulita. They offer perfect white sand, clear waters and jungle hiking. You also will enjoy considerable privacy since you will be two miles north of the town. It is a perfect destination for lovers with its horse shoe shape. The high tides will be very exciting for you as well as the path to the area through the jungle. Wherever you go in this beautiful town, you will enjoy the beauty of well preserved beaches.